Given the proven effectiveness of inhaled steroids and the presence of a Walgreens on every corner, it seems like a no-brainer that asthma shouldn't interfere with anyone's routine these days.
Yet, it's a different reality, especially in the city of Chicago, which is ranked the 49th most asthma-prevalent city in the nation, according to the Asthma and Allergy Foundation of America.
Michael F. McDermott, MD, director of emergency services for John H. Stroger Jr. Hospital of Cook County and co-director of its asthma program and consultant for the Rush University Asthma Center, said only 50 percent of patients with asthma have a prescription for inhaled steroids. Furthermore, only half of the patients with the prescription follow the medication regimen.
"We've had an asthma clinic [in Chicago] for 20 years," McDermott said. "One of the unfortunate realities that came out of research from the Illinois Emergency Department Asthma Surveillance Project was the fact that people come into the emergency department when a specialized center could better deal with them."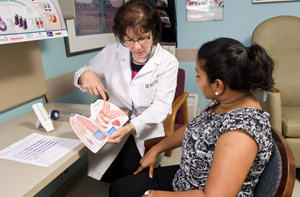 Last July, treatment at a specialized center became a reality for many Chicagoans when the Rush University Asthma Center opened. Designed to mimic a Mayo Clinic model, the center offers an interdisciplinary approach to patient care.
At Rush, pediatric pulmonologists work alongside nurses, allergists, as well as specialists in sports medicine, women's health, speech and hearing, psychology, and sleep medicine, to help patients manage co-occurring conditions.
Pediatric Point People
With a background in school health, Sarah Bergman, BSN, RN, links the specialists' diagnosis with the patient's daily life.
"My primary role is patient education. When the patients come for their initial 3-hour appointment, there's plenty to learn. Studies show patients do not know what their asthma medicines really do and how to use them properly. People who live with asthma also don't know they can feel better. We're hoping to see fewer missed school and work days," she said.
In addition to educating the patient, Bergman communicates with schools and day care centers to help them understand each student's asthma action plan. Because school nurses are in short supply – often responsible for 1,000 students at various campuses – it's crucial for teachers to recognize triggers.
"Students have died from teachers not recognizing an asthma attack. Teachers need to know what a student looks like when he's wheezing or coughing. Any person with asthma has a different presentation when they're in trouble," Bergman said.
When dealing with children, the psychological aspect of asthma can be nearly as troubling as the health implications. Bergman cites research saying children with asthma have higher levels of anxiety and more difficulty adjusting because they feel left out of sports and other normal activities. In the future, the Rush Asthma Center would like to involve social workers and psychiatrists to manage the psycho/social aspects of the condition.
Until then, Bergman said environmental changes can make a big difference when there is a suspected atopic, or allergic, component to asthma. She'll frequently recommend small alterations like using an air filter, vacuuming carpets twice weekly, pest control measures, keeping windows closed to keep pollution outside and washing clothes in hot water.
Medication Education
Whether the patient is 3 or 35 years old, education is key to helping them understand the condition and adjust to the medication regimen.
Cathy Catrambone, PhD, RN, assistant professor at the Rush University College of Nursing, makes a point to reinforce the proper technique for using medications at every visit.
"With inhaled steroids, patients don't get immediate relief. That's where the various elements of the asthma center come into play. It requires that you take the time to counsel people about the different classes of medicine and habits that need to be reinforced," she explained.
Providers at Rush's asthma clinic invest significant time in instructing asthma sufferers about the relief they can find outside of the ED. Nurses review patients' answers in the Asthma Control Test (www.asthmacontrol.com) and send them home with an action plan.
Aside from providing relief, one of the objectives behind the action plan is to reduce the number of ED visits. In the majority of cases, patients are instructed on when to take or increase prednisone, an oral systemic steroid, and when to present at the ED. According to McDermott, the simple act of reinforcing the crisis action plan could cut ED visits by 70 percent to 90 percent.
Hitting the Streets
Familiarizing clinic patients with their medicines and symptoms will certainly cut the ED traffic down for Rush patients, but clinic staff hopes to implement these outcomes citywide.
"When we work with individuals in the clinic and do a good job teaching, we see positive results over and over again. It's a challenge to move from individual excellence to programmatic excellence," McDermott said.
Bergman seems up to the challenge. The Rush Asthma Center has been operating only about six months, but has already developed an outline for health fairs and bringing asthma presentations into areas with health disparities. She's working with the center's allergist to incorporate alternative therapies including yoga and deep breathing exercises into the treatment plan.
"Children of Puerto Rican descent, followed by African-American children, have the highest levels of asthma. If you're living in an urban area and from a lower socioeconomic background and have issues with safety and security, asthma may not be your top priority. We're really trying to do something dynamic here by not only having the patient come into the clinic, but [teaching them] to manage their asthma alongside the realities of daily life," Bergman said.
Robin Hocevar is senior regional editor at ADVANCE.