Nurses at Community Hospital are brainstorming about ways to move Lake County, Ind., out of the last place as the county with the highest number of Sudden Unexpected Infant Deaths (SIUDs).
SIUDs are infant deaths that are unexpected and initially unexplained. SIDS is classified as a type of SIUD, if the cause remains unexplained after investigation. After the first month of life, SIDS is the leading cause of infant mortality.
Though Lake County has significantly higher rates of infant mortality than its neighbors, with 52 fatalities out of 6,182 live births, the problem exists statewide. Indiana ranks fifth nationally for infant mortality, according to a 2010 report by the CDC.
A recent report published in Pediatrics, the journal of the American Academy of Pediatrics, studied sleep related deaths in infants from 2002-2012 and concluded that bed sharing was the biggest culprit.
For infants zero-to-three months, death occurred when the babies were bed sharing, sleeping on an adult bed or near a person 73.8% of the time. Risk factors changed slightly for infants four months to one-year, who were typically found dead with blankets and stuffed animals.
Society's most vulnerable babies were victims of SIUD, the study said, with three times high fatality rates for children whose parents had previous encounters with social services for child abuse or neglect. Other significant predictors of SUID were low birth weight, male sex, race/ethnicity, late or no prenatal care, public health insurance and adolescent mother.
A study published last fall cited startling statistics for the African-American community. While bed sharing among the general American population has held steady, it has increased for African-American babies. These babies were 3.5 times more likely to share a bed than white infants and more likely to co-sleep than any other race.
The information reflects the evolution of the "Back to Sleep" campaign by the Eunice Kennedy Shriver National Institute of Child Health and Human Development (NICHD) of the National Institutes of Health (NIH), to the more comprehensive "Safe to Sleep" campaign. The new initiative endorses American Academy of Pediatrics recommendations for the "ABCs of Safe Infant Sleep": Alone; on their Back; and in an empty Crib.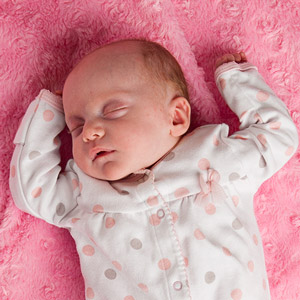 Advocating Wearable Blankets
As the "baby" hospital in northwest Indiana and the one housing many high-risk NICU babies, neonatal nurses are in a unique position to encounter heavy volumes of new families.
According to Mary Puntillo, RNC-NIC, RNC-LRN, the message about safe sleep in presented to everybody, whether it's their first baby or their ninth.
Puntillo also contacted a leading manufacturer of wearable blankets, to join their in-hospital program and receive free wearable blankets for babies in the NICU in exchange for disposing of the traditional hospital baby blankets. Families outside the NICU also receive a free wearable blanket upon discharge and the gift store is stocked with the product as well.
According to the company, more than 1,300 hospitals participate in the program. The manufacturer of the white baby blankets with blue-and-pink stripes synonymous with generations of deliveries, has responded to the shifting safety practices regarding baby blankets by introducing its own line of wearable blankets in 2013.
Still, according to Tim Abate, president of the division, the iconic swaddling blanket is still the most popular choice.
Hammering Home the Safe Sleep Message
Though the blankets have an approximate $19 retail value, nurses know all too well how easily they can end up in one of the multiple laundry baskets infants fill in a day. Without concrete knowledge about safe sleep, sleep parents will all too often put the baby down with a blanket or in their own bed in the hopes of getting some sleep.
That's why the neonatal nursing staff broaches the safe sleep topic well before discharge. The issue is covered throughout the hospital stay, at the home visits offered to anyone who delivers at Community Hospital and in infant care classes geared toward grandparents and teen mothers as well as refresher courses for parents of an older child.
Though well-intentioned, antiquated advice from grandparents has led to tragedy in the nursery. The grandparent courses are open to those who may babysit on the occasional Saturday night as well as the 2.4 million grandparents raising 4.5 million grandchildren in the U.S., according to government census data.
"When today's grandparents had young children, sleep practices were very different than they are today," said Carly Meyer, MS, RN, director of patient care services. "Many are often reluctant to hear our advice about things like removing the bumper pads from the crib. Once they hear the reasoning, they change their tune."
Whether the child is living with parents, grandparents or, increasingly, in a multi-generational household, some families don't have the financial resources to provide a safe sleeping environment for their child. In these cases, nurses will connect patients with Healthy Families Indiana, a division of the state Office of Child Services that provides a free portable crib for needy families. The trouble is, it can be impossible to distinguish a mother in financial need from that of any other post-partum woman.
That's where strong nursing skills and empathy come in.
"Many mothers don't reveal at the beginning of their hospital stay that they don't have the money for the baby to have a separate sleeping area," said Meyer. "We expect to have to ask questions more than once to determine if the family's in a high-risk situation. We're constantly reinforcing our message with handouts and modeling of safe sleep behavior."
Robin Hocevar is on staff at ADVANCE. Contact [email protected].