Parkinson's disease is a chronic and progressive neurodegenerative disorder characterized by the loss of dopamine-producing brain cells. Movements slow when dopamine is lost, so people with Parkinson's take longer to do things than others. Common motor symptoms include tremors, limb stiffness, slowness of movement, and impaired balance and coordination.1
As a long-time nurse, I've had the opportunity to work with many patients and their families as they cope with this progressive disease, which affects over one million Americans.1 Early on, much time is spent on educating families about what to expect from Parkinson's disease and encouraging them to seek care from a movement disorder specialist, who can evaluate which treatments might help control movement symptoms.
But as a nurse, I also want to provide practical advice to keep patients safe and comfortable in their home while maintaining a good quality of life. At the beginning, many patients are relieved that a diagnosis does not automatically require them to give up work or hobbies they enjoy. In fact, I encourage my patients to stay active as much as possible, adapting their activities as needed. For example, an enthusiastic gardener may need to switch to plant containers sitting on tables if kneeling on the ground becomes too challenging, but the enjoyment from the activity will remain. I also encourage my patients to listen to music as I find it is both uplifting for them, emotionally, and it can help promote movement.
Unexpected Disease Progression
Despite all my experience working with Parkinson's disease patients of all ages and stages, I didn't believe or predict that my own mother's Parkinson's disease would progress in an unexpected manner. She was diagnosed in 2007, and for a long time, she did fairly well using walkers and maintaining her social calendar. But to my surprise, about a year later, she started seeing people on her outdoor deck and in her back yard that were not actually there. Once she was convinced a stranger was on her roof, so she called the police. She even claimed to see mice in her home, though an exterminator could find no evidence of any rodents.
At first, I believed my mom really was seeing things. After all, it's possible to have an infestation, and, possibly a stranger crossed through the backyard. But as the visions became more frequent and when she claimed to see things while I was in the room with her that weren't there, I realized she was hallucinating. My mother also experienced delusions, or false beliefs, in that she'd worry excessively about her grandchildren's safety in her home when they weren't even visiting.
The hallucinations and delusions often scared my mom and made her mad because she felt the visions (the people she saw) invaded her privacy. As a result, my teenaged daughters and I would take turns sleeping at my mother's home to reassure her and make her feel safe. It was both frustrating and stressful to care for my mom because we couldn't always convince her that the visions she saw weren't real. It was particularly hard when my mom began asking for people who had long since passed away, like her parents.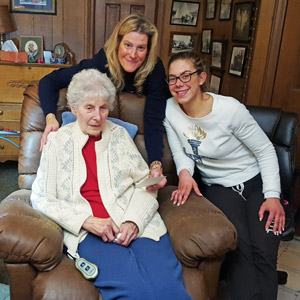 Parkinson's Disease Psychosis
Since the onset of these symptoms, I've learned that hallucinations (often visual) and delusions are the telltale symptoms of Parkinson's Disease Psychosis. Even as a nurse, I wasn't keeping the possible onset of non-motor symptoms top of mind, even though Parkinson's Disease Psychosis is estimated to affect more than half of patients over the course of their disease.2
Unfortunately, only 10-20% of patients and their families ever report hallucinations and delusions associated with Parkinson's disease to their doctors, possibly because they are embarrassed or because they do not associate them with Parkinson's disease.3,4 But understanding how Parkinson's Disease Psychosis presents and progresses is very important because it both contributes to the burden of Parkinson's disease for patients and caregivers ,and is a major reason for nursing home placement among Parkinson's patients.5,6
As soon as I realized that my mother was experiencing hallucinations and delusions, I shared that information with her movement disorder specialist. Luckily, we were in the right place at the right time because her symptoms made her a good candidate to join a clinical trial for what is now the first and only FDA approved treatment for the hallucinations and delusions associated with Parkinson's disease, called NUPLAZID® (pimavanserin).7 My mom decided to participate in the clinical trial because she wanted to help herself and others living with this aspect of Parkinson's disease.
SEE ALSO: Earn CE: Therapeutic Communication
Effective Treatment
About a month or so after enrolling in the trial, I definitely noticed a change in my mom. Her hallucinations declined, and when she did have a rare vision, she had more insight that what she was seeing was not real. Everyone in my family really feels that treatment has made a positive difference in her life.
In my experience, the non-motor symptoms of Parkinson's disease are as challenging – if not more challenging – for caregivers to manage than the physical symptoms. After all, there are strategies for managing movement (e.g., putting clothes on while sitting to maintain balance), adaptive walkers, and medications to treat the motor symptoms.
But non-motor symptoms present more subtly. Nurses are on the front line of patient care and that's why it's important to educate ourselves about non-motor symptoms, which may present as hallucinations and delusions, but may also include orthostatic hypotension, loss of smell, mood disorders and even sleep disorders, to name a few.8
My mother's Parkinson's disease educated me even as it affected me personally. But, it's also been beneficial in that I can share my key findings with other families and health professionals.
References
1.What is Parkinson's Disease? Parkinson's Disease Foundation Web site. http://www.pdf.org/about_pd
2. Forsaa EB, Larsen JP, Wentzel-Larsen T, et al. A 12-Year Population-Based Study of Psychosis in Parkinson Disease. Arch Neurol. 2010
3. Fenelon G, Alves G. Epidemiology of psychosis in Parkinson's disease. J Neurol Sci. 2010
4. Goetz CG, Fan W, Leurgans S, et al. The Malignant Course of Benign Hallucinations in Parkinson Disease. Arch Neurol. 2006
5.Goetz CG, Stebbins GT. Risk factors for nursing home placement in advanced Parkinson's disease. Neurology. 1993
6.Schrag A, Hovris A, Morley D, et al. Caregiver-burden in parkinson's disease is closely associated with psychiatric symptoms, falls and disability. Parkinsonism Relat Disord. 2006
7.NUPLAZID Prescribing Information. https://www.nuplazid.com/pdf/NUPLAZID_Prescribing_Information.pdf
8. Non Motor Symptoms. Parkinson's Disease Foundation http://www.pdf.org/symptoms_nonmotor_early
Jody Wade is a private, home care nurse in Northport, N.Y.